News from the Shambhala Archives
Greetings from the Shambhala Archives. We have been busy – generating tremendous activity – fulfilling our objective. Along with the continued preservation of the Shambhala lineage teachings, writings, calligraphies, images and relics, our objective is to make these more readily accessible to today's greater world as requested by the Sakyong. So we have been busy digitizing and cataloguing photos, following up on requests, and making images available for Shambhala Festivals. Here is a summary of our recent work.
Digital Preservations R Us
Small church archives experience a lot of challenges with funding, defining their mission, finding qualified staff, and so on. A big challenge is bringing collections into the digital realm. At the Shambhala Archives we have engaged in two new projects this year to expand our digital preservation activity. This summer the original transcripts of the Vidyadhara's teachings, starting with public seminars, were being preserved in PDF format through document scanning, which is being supported by the Chögyam Trungpa Legacy Project. The work was started by one of our summer students Karen Vermeylen, a Libraries and Information Science candidate at Dalhousie University, who is pictured here checking transcript scans for accuracy. We are fortunate that we had two summer student positions which were 75% funded by the Canadian government. Your donations provided the rest of the funds for Karen's position as well as a second position, which is described below.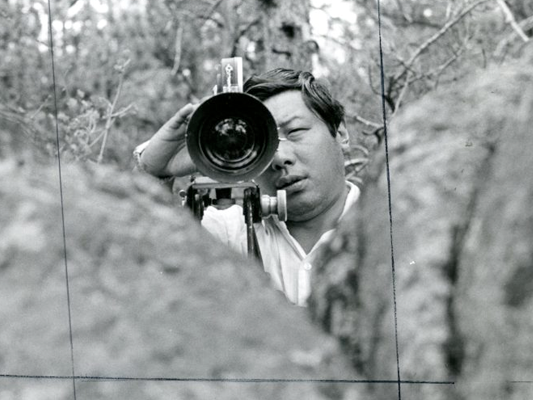 Photographic News
Our second summer student, Sam Moore created a Facebook page and a Twitter account for us, as well as scanning thousands of dharma art photos,
cataloguing a recent accession of the Vidyadhara's banner art and kasung flags
( Zenfolio gallery), and rearranging the VCTR
Collection for better storage. The Facebook page will serve to keep you
informed on what is happening in the Archives and help us to acquire the
photographers' and other attendee's stories about events portrayed in the
photographs. We hope it will greatly expand our historical data on these momentous
events which we can share with you.. Shambhala Archives facebook page .Of course he also managed to accomplish a myriad of other day to day projects. Thanks so much, Sam!
Ruth Whitehead, intrepid volunteer, will continue to number, describe and catalogue the images so they can be fully searchable. Vivid images of the Vidyadhara's own photographic art is available for viewing now, as well as personal objects from the VCTR Collection. ( Zenfolio Shambhala Archives) We would like to acknowledge the many photographers who have contributed images to the Shambhala Archives for preservation and research of our history. We hope to continue working with you to provide access of these images to future generations.
Recently we worked closely with the organizers of the hugely successful Shambhala Festival in London. We were able to provide them with many early images to commemorate VCTR's arrival in the West 50 years ago.
We have also been working with Ethan Neville, our digital technician, on presenting an updated and very beautiful digitized slideshow presentation of the Vidyadhara's activities, which includes exceptional photos, and text of the Sakyong's early years. It will be available from Shambhala Media in the new year.
Entering into the realm of electronic publishing
Everywhere you look nowadays people are reading books on screens – the ereader becomes more popular everyday. The Vidyadhara's seminary transcripts will roll out in digital ereader formats this coming year and the Shambhala Archives is playing a significant role in preparing these materials.
For the first time the Vidyadhara's original notecards are being included with the ereader transcripts. To do this we are making high-resolution scans for inclusion with each appropriate talk. Accompanying the Vidyadhara's cards will be translations in English, Tibetan font, and Wylie. The Nalanda Translation Committee is providing these translations of the notecards, giving further context to the talk. It is truly an enriching experience to read what the Vidyadhara was thinking about before giving these seminal teachings.
We rely on your continued generosity to maintain these precious teachings. Digitization at this time is important so that we can provide access to this wealth to you, our sangha and others! Your donation, whatever the amount, is greatly appreciated!
This fall we hosted a visit by Khenpo Lhabu, 3 year retreat master for Thrangu Rinpoche. Extremely impressed by our digitization work, he commented: "This is Excellent!" We feel the same, and hope you do too.
Video preservation
Continuing in digital preservation, a key collection of video has now been brought into electronic file form. Ethan Neville has been filling up our digital storage server with a major piece of our video collection – the colour images used during the making of the Thus I Have Heard video compilation commemorating the completion of the Great Stupa of Dharmakaya.