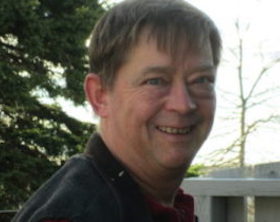 Gordon Kidd, Technical Director of the Shambhala Archives and Director of Kalapa Recordings, is retiring. For more than twenty years, Gordon has dedicated his time and energy to the preservation of the Vidyadhara's and Sakyong's teachings—both in audio and video formats—making them available for teachers, students, and the general community to study and practice.
He has managed the collection and digitization of the of the audio and video teachings of not only the Shambhala lineage, but the other lineage teachers who visited Shambhala Centers, such as Khenpo Tsultrim Rinpoche, Tenga Rinpoche, Jamgon Kongrul Rinpoche, HH Karmapa 16, HH Dilgo Khyentse Rinpoche, Changling Rinppoche, Kobun Chino Sensei, and more. Talks given by John Rockwell, Lodro Dorje, Larry Mermelstein and other Shambhala teachers are also preserved and made accessible through his work. Gordon has communicated with countless people about these holdings and spent innumerable hours fundraising for Archives and finding new ways to share the Vidyadhara's and the Sakyong's teachings with a broad audience. One of his passions was to make advanced teachings available to practitioners and centers, including the Vajrayogini tris and the Vajra Assemblies. He was also on the building committee for the Halifax Shambhala Centre, contributing much to the renovations over the years.
"Gordon is a shining example for all of us in service to the Sakyong Lineage. It is impossible to measure his contributions to upholding the mandate of the Shambhala Archives and Kalapa Media—to gather, protect, and distribute the Shambhala Dharma. Have a wonderful retirement, Gordon!" —Mark Whaley

"With good humour and generosity, he has proven himself to be a delightful boss. He'll be sorely missed as the primary go-to person for innumerable projects." —Jeanne Riordan
Please join us in wishing Gordon a happy retirement!
The Shambhala Archives Team
To wish Gordon well, or to simply get in touch, please email him at his new address: [email protected]